Beaumont School Garden
In 2011, our school garden was established and since then, it has blossomed and grown from strength to strength. The garden has now become an intrinsic part of our school life and curriculum. We welcomed the introduction of a sensory garden last year and this is a wonderful resource for all our pupils. During our Whole School Inspection, the inspectors gave very positive feedback and praise to our school garden and remarked on what an amazing facility it is to have in a city school. We were also awarded our fifth Green School Flag for Biodiversity last June. We are fortunate to have assistance from parents and grandparents from the community who tend to our garden on a voluntary basis. The pupils have gained a wealth of knowledge from these helpers.
____________________________________________________________________________________________________________________________
15th June 2021
Our Garden Produce Sale was a roaring success. There were lots of items on sale such as kale, lettuce, spring onions, radishes, potatoes, herbs such as mint and thyme, to name but a few. The real sell-outs were the sunflower and tomato plants!!! Thank you all for supporting!
Have a look at the two fantastic pumpkins we grew in our school garden. We are very impressed. Rang a dó helped to design faces and carve the pumpkins. Have a look at the transformation!!We dicussed lots of different dishes we could make using pumpkins from our garden as our grow, cook, eat project. Great ideas such as pumpkin soup, pumpkin pie and pumpkin salad were suggested. Yummy!
You might find the following website and the videos within interesting, as it ties in nicely with our 'Save the Bee' advertisement which we made earlier in the year! There is an introduction to the All-Ireland Pollinator Plan. Check in to find out the buzzzzzzz about bees!! :)
https://pollinators.ie/videos/
08/09/2020
A huge thank you to Mya Hogan who completed this beautiful artwork for our school garden.
The pupils of 5th Class were delighted to return to work in the garden today!
***Our first plant sale of the 2020/2021 school year is due to take place on Tuesday September 15th and we are very excited!***
29/06/2020
Our first carrot of the year!! We are so proud!
An update as to how our garden is looking and progressing!We love watching it transform!
06/05/2020
We, at Beaumont GNS, are encouraging biodiversity both in our school garden and at home!
A NEW 40 PAGE BOOKLET has been launched to encourage people to promote wildlife in gardens at home, with tips for beginners and those who are more ambitious DIY enthusiasts- Funded by the Department of Culture, Heritage and the Gaeltacht.Here is a link to the booklet for you budding gardeners.
https://www.dublincity.ie/sites/default/files/content/Planning/HeritageConservation/Documents/Garden_Wildlife_Booklet.pdf
Looking for a new hobby during the Covid19 closure???...
This is a lovely time of year to watch growth and change in our gardens. Make sure to spend some time exploring. Here is a link to an app that I would highly recommend, which will take your nature knowledge up a notch! You will be able to identify the names of plants, birds, animals etc and receive background information on same. There are also monthly observation challenges.
https://www.inaturalist.org/pages/seek_app
22nd April 2020:
Our fabulous school garden is in full bloom in our absence during Covid19 and the bees have certainly been busy!We are so grateful to our volunteer gardeners who help us to maintain such a lovely addition to our school!! #Save the bees
*5th March 2020:*
Over the midterm @SuperValuIRL filmed a fantastic television advertisement for their #SaveTheBees campaign in our beautiful school garden. We were delighted to have so many of our pupils involved.
See advertisement: https://youtu.be/trVLjWrqGoY
1/3 of the food we eat is pollinated by bees but did you know 30% of Irish bees are threatened by extinction? We are raising awareness in our school about the importance of bees with the help of Super Valu's school pollinator packs and we will find out how to save them!
Find out more:
https://

bit.ly/2Im2JQV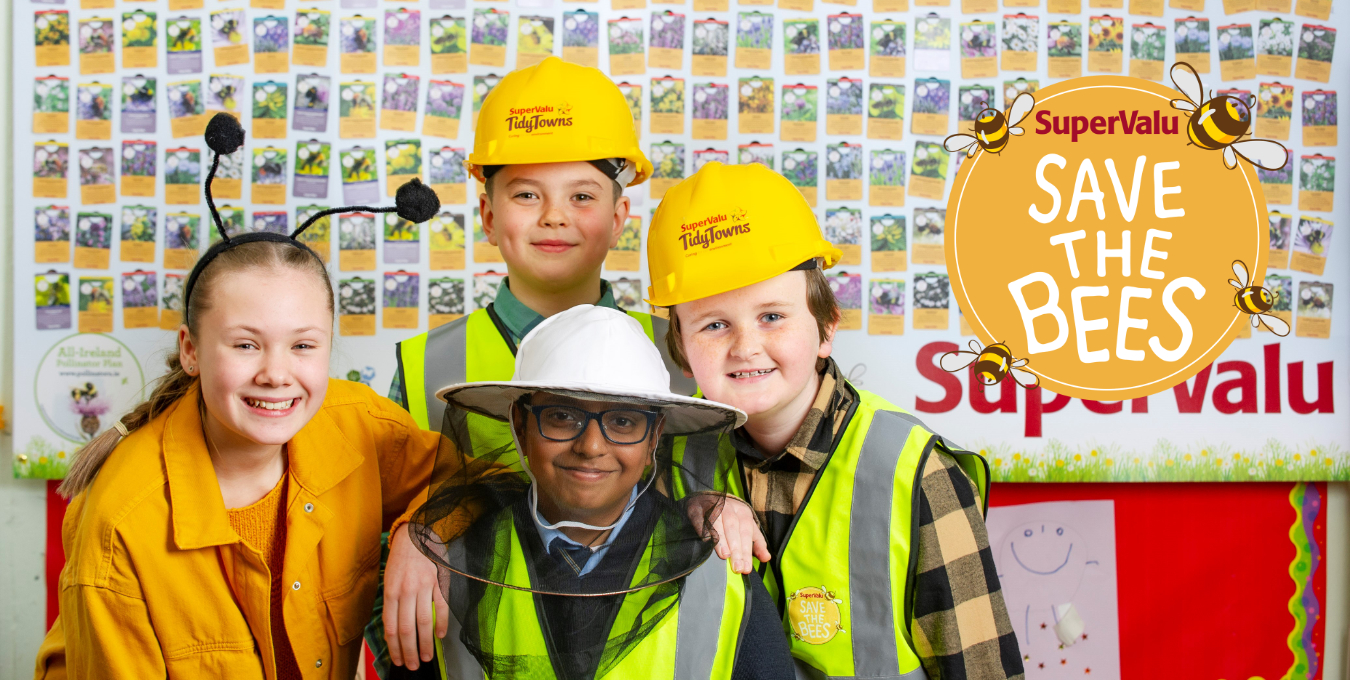 Gardening with Kay
We love visiting our school garden so much that Kay decided to come to our classroom to help us do some gardening of our own. She brought crocus bulbs for us to plant. We know that flowers need lots of water and sunlight to grow. We hope that our crocus bulbs will blossom into lovely flowers in the next few weeks. We are really looking forward to seeing how they turn out!(Junior Infants)
We decided to make a Bug Hotel, to create a luxurious home for the creepy crawlies this Winter! We painted crates of wood different colours and filled them with sticks, straws, flower pots and anything that we thought would make for a comfortable home. We cannot wait to investigate who resides there! (Senior Infants)
It is on the left of the shed in our wonderful School Garden, please feel free to visit it.
Tree Planting for Tree Week!! We look forward to watching it grow!
A few snaps from the earlier days... to show how far we have come in progressing our school haven!
Recipe of the month(October):
'Roast Pumpkin, Spinach and Feta Salad'
Ingredients:
Pumpkin:
-600 g pumpkin (after peeling), cut into 3cm cubes
-1 1/2 tbsp olive oil
-Salt and Pepper
Dressing:
-50 ml extra virgin olive oil
-2 tbsp balsamic vinegar
-1 tbsp honey
-Salt and pepper
Salad:
-1/4 cup/ 35g pine nuts
-150g baby spinach leaves
-60g feta, crumbled
Method:
1. Preheat oven to 220C.
2. Toss pumpkin with olive oil, salt and pepper. Spread on baking tray, bake for 20 minutes. Remove from oven, flip, then bake for a further 7-10 minutes until golden but not mushy. Loosen pumpkin with egg flip (it can adhere as it cools), then if serving salad at room temperature, leave to cool.
3. Shake dressing in a jar. Taste and adjust to taste. I like it a bit sharp because it balances out the flavours in this salad.
4. Toast pine nuts in a dry skillet over medium heat until light golden and it smells nutty. Remove pine nuts from skillet as soon as it's ready.
5. Place Spinach in a bowl. Drizzle with a bit of dressing then toss.
6. Add pumpkin, just a bit of feta and pine nuts, then GENTLY BRIEFLY toss just to disperse the feta. (If you toss vigorously, the feta can make it look messy).
7. Transfer to serving plate. Sprinkle over remaining feta and pine nuts. Just before serving, drizzle with remaining dressing (dressing doesn't stay on baby spinach well, so worth drizzling at end). Serve!
Enjoy!!!
On Tuesday 22nd October, Rang a sé had great fun carving pumpkins. They called their pumpkins Freddie, Freda and Frank!! They then made the beautiful recipe above along with Pumpkin soup.
Grow, Cook, Eat!
On Tuesday 17th September, Rang a trí received a cooking demonstration from Kay, our fantastic garden helper, of the recipe below-homemade chutney! Great fun was had and all the produce came from our school garden!! What an organic treat!
Our final plant sale of 2019
The pupils had a very succesful plant sale on 18th June. Produce that the pupils sold included radishes, turnips, lettuce, mint, parsley, chives, thyme, ruburb, tomatoes, fox gloves and sunflowers to name but a few. We raised €134.55 in total! tHESE FUNDS WILL HELP US TO BUY MORE PLANTS AND AID IN THE BUYING OF OUR NEW gREENHOUSE.pLANTS AND VEGETABLES WERE SOLD TO PUPILS,STAFF AND PARENTS

.
Spring has Sprung!!!!!
19th March 2019
Today we went to the garden to do some gardening. Our first task was to wash out dirty bottles that were on display. Our second task involved cleaning garden ornaments and logs used for stepping stones, in preparation for painting. We were busy weeding our beautiful garden to ensure that it was weed free so that the flowers have room to blossom in Spring. We also raked the scattered twigs on the grass. We were rewarded with a digestive biscuit. It was a great day!! By Megan, Fiona, Beth Ward, Beth Potts, Doireann and Eabha( 5th Class pupils)!
Pupils are in charge of harvesting plants and herbs and proceed to sell the produce to raise funds for the garden. Here are a few of our entrepreneurs and their produce!
Every year, with the funds that are raised, we endeavour to buy a new addition for our school garden. In 2017, we bought a pergola.What a relaxing haven for busy minds!